Fall Book Sale – September 21-30. See Details in the Book Sale page
About Us
The American Association of University Women (AAUW) empowers women and girls through advocacy, education, philanthropy, and research.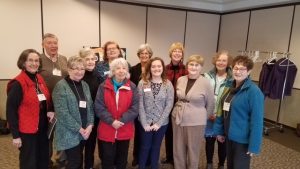 Our nonpartisan, nonprofit organization has
More than 170,000 members and supporters across the United States
1,000 local branches
800 college and university partners.
Since AAUW's founding in 1881, our members have examined and taken positions on the fundamental issues of the day — educational, social, economic, and political.
AAUW's Mission
AAUW advances equity for women and girls through advocacy, education, philanthropy, and research.
AAUW's Value Promise
By joining AAUW, you belong to a community that breaks through educational and economic barriers so that all women and girls have a fair chance.
Our Branch
American Association of University Women, River Falls, Receives National Recognition
The River Falls AAUW branch has been recognized by the national AAUW organization as one of 11 "5 Star" branches in the US during 2019-20.  With a vision of equity for all, AAUW's mission is to advance gender equity for women and girls through research, education, and advocacy.  The local organization, founded in 1935, has a long history of supporting community and regional initiatives in education, leadership, and advocacy.
AAUW sponsors monthly public programs.  Recent topics included student debt, food security, and civil conversation skills.  The membership supports initiatives such as Chippewa Valley Technical College scholarships, leadership development by sending UWRF women students to national conferences, policy advocacy and informational candidate forums, Girls in Science events at UWRF, a Women in STEM essay contest with stipends for middle school students, and a Role Model for Equity award, recognizing women community leaders. The 5 Star designation was awarded based on accomplishments in programming, advancement, public policy, governance and external relations.
Connect with us!
Further information about AAUW and 2022-23 programs is available at  facebook.com/AAUW.RiverFalls or riverfalls-wi.aauw.net/ or by email request to aauwriverfalls@gmail.com.